The Google Pixel 3 XL and its massive notch have just leaked out again
28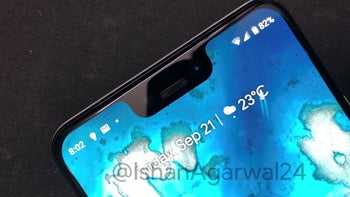 Recently, following months of leaks, the first official
Pixel 3 and Pixel 3 XL renders
popped up on the web. Unfortunately, the designs were concealed by rather bulky cases. But thanks to today's latest images of the Pixel 3 XL, yet another glimpse of the phone has been provided.
As reported multiple times before, the
larger Pixel 3 XL
looks very similar to last year's model from the rear thanks to the dual-tone construction. Unlike last year's Pixel 2 lineup, though, this year's model makes use of a large frosted glass section and a separate area that is now understood to be aluminum covered with a plastic-like coating. Regardless of the composition, the rear panel is still home to the Google "G" towards the bottom, and the fingerprint scanner the middle. Additionally, following in the footsteps of previous Pixel phones, the Pixel 3 XL sport justs one rear camera in the top-left corner.
When the phone is flipped over, the differences in comparison to previous generations become much more obvious due to the upper bezel situation. After all, while last year's
Pixel 2 XL
makes use of a much more traditional bezel, this new device is home to a pretty huge notch. Thankfully, this integrates a new dual-camera selfie setup and one of two front-facing stereo speakers – the other one is placed on the bottom bezel. Another design detail that has been confirmed by the tipster who published these images is the presence of a SIM tray on the bottom of the phone and the mint-colored
accented power button
. Unfortunately, following in the footsteps of the previous lineup, the device lacks a 3.5mm headphone jack. Instead, owners will have to rely on the USB Type-C port and Bluetooth connectivity.
For quite some time now, it's been reported that these Pixel 3 leaks are all part of an
elaborate marketing campaign
. After all, recent Pixel 3-related teasers and stories have all lined up with the timeline that Google allegedly has planned. Unfortunately, the truth behind the whole situation will not be known
until October 9
, which is when the Pixel 3 and Pixel 3 XL will officially arrive.