Google can't really offer repairs for your broken Pixel 3 or 3 XL right now
6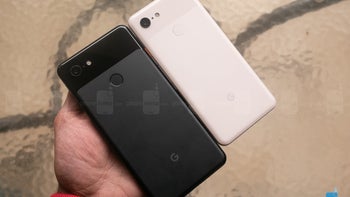 UPDATED
: We received a clarification from uBreakiFix regarding the current Pixel 3 and 3 XL screen replacement process at their locations:
We expect to have OEM Pixel 3 and Pixel 3 XL screens available at every uBreakiFix location for same-day repairs in the coming weeks. uBreakiFix stores are currently able to overnight these parts from our distribution center, and that's what customers can expect until there's adequate supply at every store, which will then enable us to provide same-day repair service for these devices.
When we were doing our research on the iPhone, Samsung Galaxy, LG, OnePlus and other phones'
screen replacement prices
, we couldn't help but notice that Google was the only maker that outsourced their repairs to third parties. Granted, it opened a
mail-in "Repair Center"
back in September, but, as you can see from the screenshot below, it only supports older Pixel phones.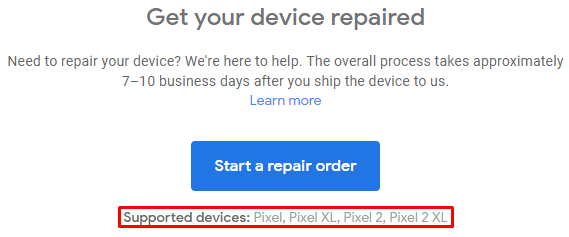 For screen and other replacements of the
Pixel 3
and
3 XL
outside of the San Francisco Bay Area, it
works with the handymen from uBreakiFix
on a walk-in basis, and that's your only option if you drop your shiny new Google phone on a hard surface sans a case and protector. The funny part is that the link that sends you from Google's support site to uBreakiFix also only lists phones up to
Pixel 2
.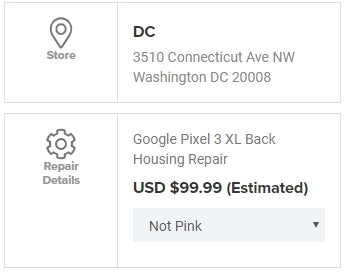 uBreakiFix would take your Pixel 3 repair order but may not have the parts yet
It's only when you get to the home page and then choose Pixel 3 or 3 XL that you are able to set an appointment at your nearest uBreakiFix location for screen or back housing replacement, and only of the Not Pink color at that. So far so good, there is an option, and Google is just getting this whole maker-of-consumer-electronics role sorted out.
It turns out, however, that the repair chain still hasn't received any spare parts from Google except for the battery pack, so they
weren't even able to fix a Not Pink Pixel 3 XL
at the moment and had no idea when they'll get the necessary screen and housing to start supporting Google's newest phones as intended. Until Google works through this apparent fix and repair issue, better slip your new Pixel 3 or Pixel 3 XL in a
tough case
and slap a
screen protector
on it.