Best Google Pixel 3 and Pixel 3 XL cases: from thin to rugged
3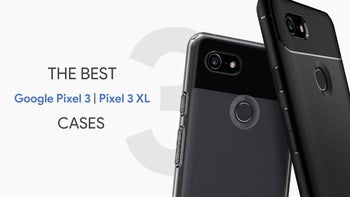 The Google Pixel 3 and Pixel 3 XL are finally here. After being leaked to death for months, especially the XL model, Google finally took the stage earlier this week to unveil its latest Android flagships. Although we knew a lot about them already (thanks to the aforementioned leaks), there were still some surprises to be had.
Many people were hoping that the company would announce a third, "Ultra" model of the Pixel 3 with no bezels and a truly bezel-less design, but this didn't happen (unsurprisingly at that, we'd like to add). But Ultra Pixel or no, when you get your hands on one of the phones, you'd better get a case for it as well. The good news is, although the Pixel 3 and Pixel 3 XL are yet to hit store shelves, there is already quite the variety of cases available for them.
From thin to rugged, here are the best Google Pixel 3 and Pixel 3 XL cases you can get right now. Better pick one to go along with your new purchase!
Thin Google Pixel 3/Pixel 3 XL cases
Spigen Case Thin Fit
Spigen's Thin Fit lineup of cases for the Pixel 3 and Pixel 3 XL offers adequate protection without adding considerable bulk to your new phone. The idea of this design is to preserve the looks of the Pixel 3, all the while offering protection against everyday impacts. The Spigen Thin Fit fully supports wireless charging and has a slot for metal plates for use with magnetic car mounts (just remember that metal plates are not advised to be used during wireless charging). If you're looking for a lightweight and elegant case for your Pixel 3 or Pixel 3 XL, the Thin Fit is the one for you.
Spigen Case Thin Fit 360

The Thin Fit 360 is the same case as the Thin Fit, but with a custom-fitted glass protector that handles unwanted screen contact. If you're looking for full-body protection for a brand new Pixel, without excessive bulk added to the phone, then this Spigen offering may be the right one for you. It is not yet available for purchase, but is coming soon and will sell at $29.99 for the Pixel 3 version and $34.99 for the Pixel 3 XL model.


Regular Pixel 3/Pixel 3 XL cases
Spigen Case Ultra Hybrid S
Spigen's Ultra Hybrid S is designed to showcase the design of the new Pixels, all the while giving them the protection they deserve. The hybrid construction combines a shock-absorbent bumper with an all-around clear frame and back. There's also a kickstand built into the case for propping your phone in either both vertical and landscape orientation. The Hybrid S is a bit thicker than Spigen's Thin Fit lineup but fully supports wireless charging nonetheless. It's also compatible with metal plates for magnetic car mounts.
Case-Mate Wallet Folio
The Wallet Folio, as the name implies, is a premium leather case for the Pixel 3 and Pixel 3 XL that doubles as a wallet. The exterior of the case is made from pebbled genuine leather and has a built-in stand to prop the phone in landscape orientation. When you flip the case open, three pockets that can hold cards and cash are revealed. The inner frame of the Wallet Folio is made from sturdy rubber that can absorb everyday impacts. As can be expected, the case also supports wireless charging, so if you were planning on getting the new Pixel wireless charging stand, you're all set.
UAG Plyo
UAG's Plyo series of cases for the Pixel 3 and Pixel 3 XL offer ample protection without going into rugged territory. They are built with tough outer shells that can take a lot of beating, but have a soft core to keep your phone nice and snug during the tortures you'd be presumably subjecting it to. The Plyo has oversized tactile buttons and is wireless charging compatible. It also comes in two colors – Ice, which is semi-clear, and Glacier, which is semi-translucent with a blue tint.
Rugged Pixel 3/Pixel 3 XL cases
UAG Monarch
Comprised of five layers of protective materials, this case from UAG's premium Monarch line provides more than ample protection for the new Pixels. It has that unique UAG armor frame on the back, surrounded by thick rubber padding for shock absorption, partially hiding beneath a layer of top grain leather. Finally, there is a polycarbonate shear plate for protection from larger impacts. Everything is securely held together by four large, metal torx screws that also look pretty cool.
Otterbox Defender
The Otterbox Defender cases for the Pixel 3 and Pixel 3 XL are some heavy-duty stuff. If you're looking for a case that will withstand a massive beating, and don't mind the necessary bulk to achieve this, then look no further than the Defender. This lineup of cases offers 2-layer protection with thick rubber padding and a plastic shell. The softer layer absorbs shocks, while the robust outer shell does the dirty work of protecting against the actual impacts. The Otterbox Defender also comes with a belt clip for fans of extreme mountain climbing.
Spigen Rugged Armor Urban
A case that strikes an almost perfect balance between rugged and stylish, Spigen's Rugged Armor Urban shell for the Pixel 3 and Pixel 3 XL offers single layer protection with a premium look and at an affordable price. This rigid wrapper sports a dual-tone back with a carbon-fibre-textured bottom half and a matte TPU finish around the camera and fingerprint scanner. It has raised edges around the screen, so even if you like leaving your phone face-down, it'll be protected from small debris. The Spigen Rugged Armor also offers Mill-Grade protection implementing Spigen's Air Cushion technology in all four corners for superior shock absorption.