Google Photos update adds option to bookmark favorite photos
3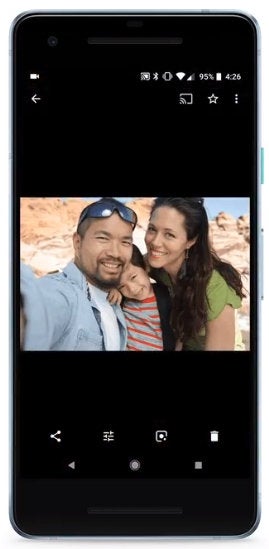 Google Photos' new Favorite button
Google has been working to bring a lot of new features and improvements to the
Google Photos app
, but there is still a lot that hasn't even been mentioned by the search giant (bring Folders please).
The last new feature recently introduced by developers is the option to mark photos as favorites by tapping the star-shaped icon that appears above every photo in
Google Photos
. Then, if you head to the Albums tab, you can view all your favorite photos in just one place.
The new feature is pretty neat and useful, but there are other improvements that Google must definitely add to the app to make it even more appealing like the option to create folders and sort the pictures. Speaking of features that aren't available yet, Google has given us a hint as to what other improvements it plans to add in the not so distant future.
Apparently,
Google Photos users
will soon be able to "love" the photos shared by their friends. A new heart-shaped icon will be available above photos, possibly next to the one that lets you favorite a photo, which will allow you to "love" a shared photo. No word on when exactly will be made available, but at least we know it's coming.