Google Nexus 7 denied in China, might mean halving sales outlook for 2012
45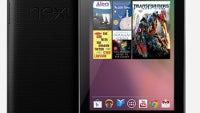 The
Google Nexus 7
tablet arrived with a splash a couple of months ago opening wide the $199 7-inch tablet niche, after the Amazon Kindle Fire started it all last year. Google was widely expected to sell around 8 million Nexus 7s by the end of the year, but now it seems that China is turning out to be a huge barrier in Google's plans.
The Chinese Government has barred the affordable 7 incher from landing in Chinese stores, and it seems this denial for the Asus-made Google tablet comes as a response to Google threatening to leave the country in 2010 as authorities wanted to censor more than Google thought possible.
What's worse is news that without China, the
projected sales of the Nexus 7 in 2012 might drop by more than a half
- down from 8 million to merely 3.5 million devices.
There is really not much that Google can do here. The Chinese Government move will without a doubt allow Chinese white box manufacturers to gain some ground and momentum with their own products. It doesn't sound fair, but we guess Chinese companies have been dreaming for such kind of protectionism, don't you think?
source:
DigiTimes