Google Hangouts app updated to add more emoji and butter
10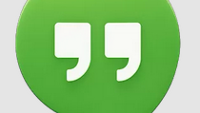 Google has just updated its Google Hangouts app for Android. Among the new features are some more emoji added by Google, while a dollop of butter has been added to the app to make sure that Google Hangouts runs smoothly. And a number of bugs have been exterminated. Hangouts, formerly known as Google Talk, allows for one-on-one and group conversations among Android and iOS users. And you can turn any chat into a video call with as many as 10 participants.
Like the recent YouTube update
, the Google Hangouts app is taking its sweet time making its way across the entire Android platform. That means if it isn't available for your phone today, have no fear because it eventually will be available for your phone. The latest update of the app takes it to version 1.1.2.778356 and you can try the "My Apps" section of the Google Play Store to see if the update is hiding for you there.
Considering that there aren't too many changes that come with the update, those who are anxious to install it must have a fondness for using emojis.
source:
Hangouts
via
IntoMobile