Google Chairman Eric Schmidt once again photographed using a BlackBerry
99+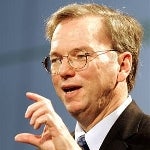 Just because Eric Schmidt is
no longer Google's CEO
doesn't mean it is good publicity for him to parade around with a BlackBerry device. After all, Schmidt remains Chairman of the Mountain View based company that developed the Android open source OS.
Schmidt was in Indonesia attending an economic summit when the picture was snapped of him
using a BlackBerry Bold 9780
to take a picture. Sure, BlackBerry handsets are supposed to be the smartphone that serious businessmen pick. But when the business in question includes providing the Android OS and a ton of applications for Android phones, it makes you wonder.
This isn't the first time that the executive was caught sporting a 'Berry. About 2 years ago Schmidt was found
snapping a photo with his BlackBerry Curve 8900
. We are wondering if perhaps the Chairman of Google is tired of having to keep his
Android phone plugged in all day
.
source:
Crackberry