Google Allo's Assistant updated with support for French and Spanish languages
1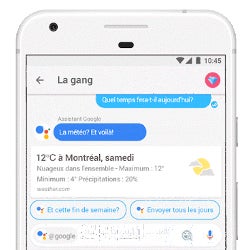 The
Google Allo
app has just been updated with two new languages that are now supported by the integrated Assistant: French and Spanish. Also, Google announced the Assistant would allow Allo users to search, play games or have a conversation.
The French language support is available in Canada only. In order to start using the new feature, you must say "
Talk to me in Canadian French
" whenever you chat with the Assistant in
Google Allo
. Furthermore, the latest update allows Google Allo users to adjust the language setting for the Assistant.
Besides French speakers in Canada, Spanish speakers in Spain have been granted access to the
Assistant
in Allo. The latter will now be able to interact with the personal digital assistant in their native language whenever they want.
Currently, Google Allo with smart features is available in English, Brazilian Portuguese, Hindi, Spanish and Canadian French. According to Google, additional languages will be added to the Google Assistant over time, though a timeline hasn't been published yet.