Going to the battery life Olympics? Might want to check the Vernee Thor E out!
5
This story is sponsored by Vernee. PhoneArena's opinions in this article have not been affected in any way!
Nowadays, the trend in flagship-class smartphones is to try and wow you with a slim and light design and some form of incredible camera improvement. Midrangers, on the other hand, know that they can't win the fight in the performance or camera department, so they do another trick — they try to dazzle you with an extreme battery life, and possibly with an enticing price-tag.
Such is the story of the Vernee Thor E — a midrange smartphone with modest specs, an enormous battery, and software optimizations that try to extend its life as much as possible.
The phone sports a 5-inch, 720x1280 display, and its heart beats with an octa-core MediaTek MT6753 SoC, clocked at 1.3 GHz — not an incredibly powerful, but a pretty energy-efficient processor. It's paired with 3 GB of RAM, and a 16 GB onboard storage chip, expandable via microSD of up to 128 GB. Of course, the main focus here is the juice pack in the device's trunk – a 5,020 mAh battery to keep the lights on for quite a while!
The Vernee Thor E doesn't just rely on a large cell for a long battery life, however. The phone's software has an Ultra Power Saving mode baked in, which limits the display to grayscale only and pretty much obliterates most of the background functions. However, in return, you get 30 days of standby on a single charge.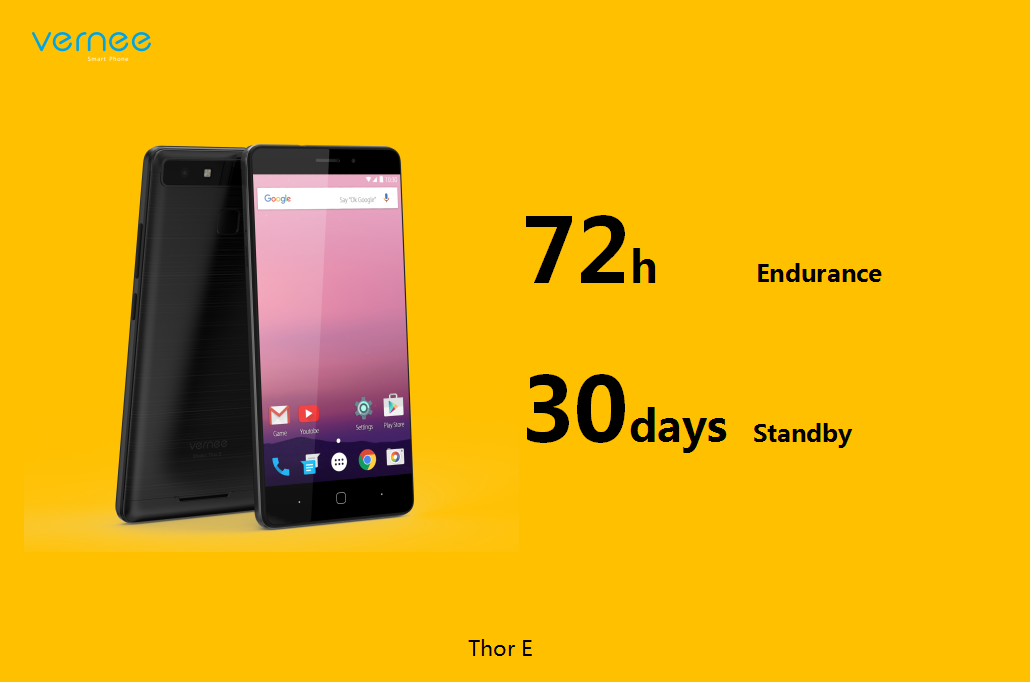 The Ultra Power Saving mode is easy to activate, too, thanks to a hardware button on the phone's left. Presumably, the idea being that one can switch in and out of power saving depending on their current needs, effectively squeezing more battery life out of that massive juice box. Of course, there's also quick charge support with the phone's 9V / 2A power brick.
As for the rest — we've got a camera combo of 13 MP for the main snapper and 5 MP for the selfie cam. The phone comes with Android 7 Nougat out of the box and it looks like it's pretty close to "stock Android", with the exclusion of the special battery-saving modes.
The Vernee Thor E is up for pre-sale for the price of $129.99 and the phone will be shipping out near the end of May. Visit the official page, linked below, for a list of authorized e-shops and be sure that your carrier's bands match with the phone in case you are planning to place an order!