Google now rolling out new Material Theme design to Gmail mobile app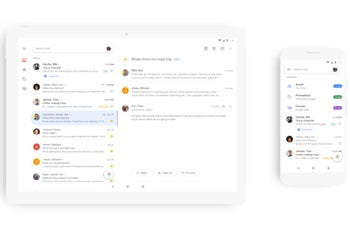 Google is bringing the same design it brought to the
Gmail app
on the web back in April to the Android and iOS apps.
Starting today
, a new update is rolling out to Gmail mobile app, which adds a new Material Theme, but no important new features or improvements.
This is a complete redesign that makes Gmail UI brighter and cleaner. As a matter of fact, some say that the new design is too bright and totally uninspired especially when you're opening the app in low-light environments.
The good news is Google included some tweaks as well, such as the ability to quickly view attachments without having to open or scroll through a conversation. Also, thanks to machine learning technology, Gmail enables users to write emails faster due to
Smart Compose
.
The same goes for replying to messages, which happens quicker than ever with suggested responses offered by
Smart Reply
. The new update is rolling out starting today to all Gmail users on Android and iOS, but it will probably take some time until it reaches everyone, so be patient if you don't get the new design right away.