Gmail snooze feature starts appearing on the Android app
1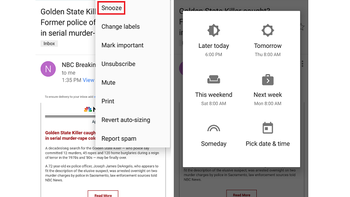 Good news today for Gmail users who employ the Android app. Google has started rolling out the snooze feature. If you're not familiar with how this works, and what it does, Snooze allows you to set a time and date for an email to be "re-delivered" to your Gmail in-box. The app will recommend certain snooze settings, or you can customize the time and date for the email's reappearance.
The email that you snooze will disappear from your in-box until the snooze period is over. To use Gmail snooze on your Android app, tap the overflow menu and click on snooze. You will then see a box with recommended times for the email's siesta to come to an end, which will result in the reappearance of the email as though you had just received it for the first time.
It appears that this is a server-side update from Google, which means it could hit your device at any time. We can tell you that it does appear on the Android flavored phone of at least one
PhoneArena
writer, so you might want to open the Gmail app on your Android handset to see if you now have the power to snooze your email.