Gmail app for Android is updated with much improved features for priority emails
0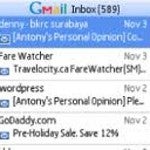 A new update for Android's Gmail app improves the priority inbox features and also allows you to make some destination changes for your email while you are in the process of writing it. Prioritized email will sound a preset alert when it hits your inbox. A special window will allow you to read the email and the same old Priority Email icon will let you know when to drop everything to open your mail.
Unlike the recent YouTube upgrade, the changes to the Priority Emails do not take the Gmail app up to the quality of the desktop version according to Google, but it is a nice step forward. You will even be able to change the destination of your email from "reply", "reply all" or "forward" right in the middle of composting your letter.
Gmail version 2.
3.2
also fixes some bugs and is now available for free from the Android Market for handsets running Android 2.2 or higher.
source:
AndroidGuys