Gingerbread gains, Froyo fades in the latest Android breakdown
20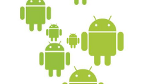 In the latest report on Android builds, Froyo (2.2) still can be found in a majority (59.4%) of devices running Google's open source OS. The data covers the 2 weeks up to July 5th, and since the last survey Android 2.2 has dropped from a 64.6% reading. The version of the OS that has picked up the slack is the
hard-charging Gingerbread
which now can be found in 18.6% of Android devices. That number is double the percentage that Gingerbread had in the last report.
Gingerbread itself can be broken down. Android 2.3.3-2.3.4 has a 17.6% slice of the Android pie while Android 2.3-2.3.2 is in just 1% of the total Android universe. The latest version of Gingerbread, Android 2.3.4, supports gTalk, and as more handsets are launched, you should see a
major pickup
in this build.
As we
reported
, the next version of the Google OS for phones will be 4.0, or
Ice Cream Sandwich
. Android 3.0 and 3.1, also known as Honeycomb, are optimized for Android tablets and can be found in .9% of all Android devices. Ice Cream Sandwich will bring some of
Honeycomb's features
to Android handsets. Rounding out the remaining builds, Android 2.1 still can be found in just over 17% of Android handsets while Android 1.5 and 1.6 own 3.6% of the total.
source:
AndroidDevelopers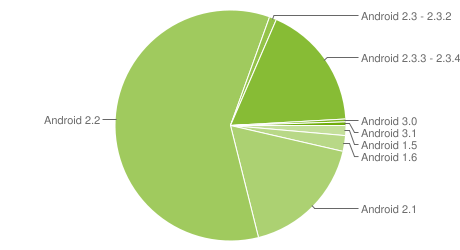 Gingerbread flavored Android devices doubled in number from the last survey