Get your Valentine a free Alcatel OneTouch Pixi 7 tablet from T-Mobile; here's how!
1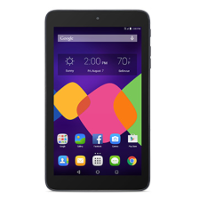 How would you like to present your significant other with a 7-inch tablet for Valentine's Day? And the best part is that while you will be getting the credit for delivering such a thoughtful gift, T-Mobile will be paying for it. Starting today, and running until supplies are all gone, you can receive a free
Alcatel OneTouch Pixi 7
for $0 down and $0 a month. While our math might not be as good as it once was, we can still figure out that this works out to a price of $0 for the slate.
To take advantage of this deal, you can shop at T-Mobile's brick and mortar stores, shop online, or call 1-888-795-3776. First, you purchase the tablet using an Equipment Installment Plan. T-Mobile will make all of the monthly payments. You will have to activate or maintain a 1GB (or more) Simple Choice Mobile Internet plan for your tablet.
Each month, you will see a $7 charge under equipment, with a $7 credit under "Credits and Adjustments" offsetting that charge. As long as you keep your account in good standing, you will get the $7 credit each month for 24 months. If for some reason you cancel your tablet plan, the $7 credit will halt, and you will be responsible for the balance owed on the tablet up to $168.
The Alcatel OneTouch Pixi 7 features a 7-inch screen with a 600 x 1024 resolution. Under the hood is a quad-core 1.2GHz CPU with 1GB of RAM inside. 8GB of expandable storage is on board, and there is a 32 capacity microSD slot for those requiring additional memory. The tablet is equipped with a 2MP front-facing camera, and Android 5.0.2 is pre-installed.
Back in August, T-Mobile gave away the same tablet as part of a similar promotion
called "Get a Tablet on Us." This Valentine's Day deal is the same, even if your ultimate objective this time is to get on your mate's good side.
source:
T-Mobile