T-Mobile is giving away the Alcatel OneTouch PIXI 7 as part of its new "Get a Tablet on Us" promotion
5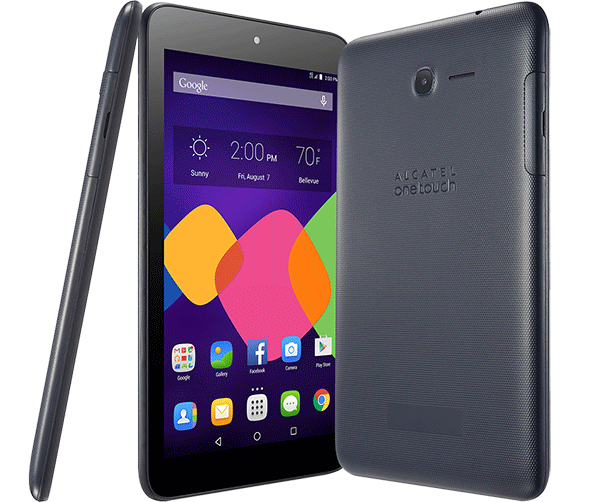 Earlier today, T-Mobile - now the
third largest carrier in the US
by subscriber count - announced that it is bringing back the "Get a Tablet on Us" offer to its customers starting tomorrow as part of its back-to-school promotion for 2015. In essence, the carrier will be handing out an Alcatel OneTouch PIXI 7 tablet to customers as long as they add a new tablet plan to their account.
T-Mobile says that customers will only have to pay the sales tax for the Alcatel OneTouch PIXI 7, a tablet that the carrier points out to as being its best-selling slab. As some may anticipate given that the tablet will be given away for virtually free, the OneTouch PIXI 7 is an entry-level tablet with modest hardware across the board.
The specs of the Alcatel OneTouch PIXI 7 include a 7-inch display with the rather low resolution of 1024 by 600 pixels, a Qualcomm Snapdragon 410 processor with a 1.2GHz quad-core CPU, 1GB of RAM, 8GB of microSD-expandable internal storage space, 4G LTE support, and a 3240mAh battery. In the camera department, the PIXI 7 comes with a 2MP primary camera on the back and a 0.3MP secondary shooter on the front. On the software side, the tablet runs Android 4.4 KitKat. Obviously, the PIXI 7 isn't one of the tablets that we'd recommend if you're into 3D-intensive mobile games, but the hardware will probably hold up just fine for browsing the web on the go.
T-Mobile has announced that existing customers will be able to take advantage of the new "Get a Tablet on Us" promo starting tomorrow, August 14. The promo will expand to new customers on August 19, but only if the stock set aside for the promotion is not depleted by then.
What do you guys think of T-Mobile's new promotion? Will you be getting yourself a free Alcatel OneTouch PIXI 7?