Get the full set of Galaxy S6 and S6 edge wallpapers here
11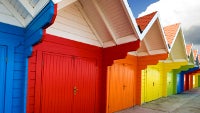 Despite some rumors to the contrary, Samsung's new TouchWiz edition that ships with the Galaxy S6 looks almost as bloated (sorry, feature and freebies-laden) as before. There was speculation that Samsung apps like S Note, S Voice and so on, will be provided as separate downloads, though, in order to avoid gumming up the interface works.
Well, this didn't really happen, as those apps still come preinstalled on the new S6 and S6 edge phones, but they are a bit redesigned now, with a few new features added. We do have a pleasant surprise for you today, though, and it is all 12
Galaxy S6
and
S6 edge
wallpapers gathered together at one place.
That's right, so far we've been treated to two or three only, but here is the full set. Obviously, if you like the wallpapers, you can use them on any handset, be it made by Samsung or not. There are a few types of those - with 2240x2240 resolution, with 2560x2560 pixels, and some lower-res 1024 pixel ones. To download the images at their maximum resolution, double click, or double tap on them below before saving them on your device. If you want to download the full set at once, just click the source link below.