Gemalto's UpTeq NFC is the first SIM card authorized for mobile payments by Visa, MasterCard and Amex
2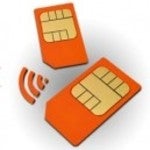 The Subscriber Identification Module (SIM) card and
mobile security juggernaut Gemalto
managed to score another first in its quest to unify the SIM card and NFC functionality in one.
Its UpTeq NFC SIM is now the first card that can go in your phone, and have all three major payment networks certification for mobile buying and selling. This mobile payment SIM can now authorize purchases via Visa's huge payWave network, MasterCard's PayPass, and AMEX is not left out in the cold with its ExpressPay solution.
The top-shelf SIM card module is now utilized by Orange France, and it lets carriers add more certifications to it, like Rogers in Canada, or KDDI in Japan, which, apart from the major payment network providers like Visa, Amex and MasterCard, are to add their local mobile payment providers to Gemalto's brainchild. Loyalty cards, promotions and other marketing tricks can also be added to the SIM card module by local providers, turning it into a universal tool in case your phone is not equipped with an NFC chip, or authorized for mobile payments.
Gemalto's UpTeq NFC World's First High-End SIM to Obtain American Express, MasterCard and Visa Certifications

AMSTERDAM--(BUSINESS WIRE)--Regulatory News:

"Combined with the fact that our high availability Trusted Service Management centers in Singapore, the US and France have received certification by MasterCard and Visa, Gemalto is offering a unique service footprint to support mobile NFC deployment anywhere in the world."
Gemalto (Euronext NL0000400653 GTO), the world leader in digital security, announces that its UpTeq NFC high-end SIM has obtained certifications from the three largest global payment networks - American Express (AMEX), MasterCard and Visa, in addition to previous certification by EMVCo. Available in all form factors for 2G, 3G and 4G handsets, the UpTeq NFC supports contactless payment and other secure services via AMEX ExpressPay, MasterCard PayPass and Visa payWave, providing unmatched flexibility to service providers and end users.

The UpTeq NFC has been certified with the widest scope of functionalities possible. With an optimized delta certification for product approval, this secure service platform can be tailored to fit the needs of each individual NFC deployment. Following the Singapore NFC launch in August, the fully certified UpTeq NFC is now being deployed by Singapore's three mobile operators – M1, SingTel and StarHub – and will also support CEPAS1, a local payment standard used for small value purchases. The high end SIM will also be customized for the local requirements of KDDI in Japan, Rogers in Canada and Orange in France, amongst others.

The UpTeq NFC acts as a tamper-proof secure element for consumers' confidential credentials and payment data and is a crucial part of enabling NFC transactions. The strict requirements needed to obtain certification from AMEX, MasterCard and Visa translates into confidence for end users. The flexibility from easy 'onboarding' – the addition of new NFC services - also makes it attractive for new high value services such as mobile identification, coupon redemption, loyalty programs and transit cards. The availability of this fully certified NFC SIM on the market provides a strategic time-to-market advantage for mobile operators and banks looking to deploy NFC massively.