Apple in talks with Gemalto to supply carrier-independent SIM cards with mobile payment functions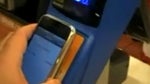 If you read our
article on mobile payment systems
, you would be familiar with Gemalto. It's a large Dutch digital security company, which supplies gear for mobile payments, and other goodies, integrated in your SIM card, among others. Rumor has it that Apple is in talks with Gemalto to create the so-called Open SIM, that is to be integrated in the next-gen iPhone.
It will supposedly be carrier-independent, and programmable OTA via a download off of App Store, giving you a choice of carriers, after you've purchased an iPhone. We don't know how practically possible that will be, since we are positive that the carriers will have a hard time buying the idea. That is why we are more inclined to think that this Open SIM has more to do as part of the
mobile payments project
, going on at Apple. Gemalto is a leader in OTA management, and can apply it to its Near Field Communications (NFC) mobile payment solutions, which are already in handsets by Nokia and Samsung.
To back up our theory, we'd say that, inside the EU, France is trying to be at the forefront of contactless mobile payments by creating the Association Européenne Payez Mobile alliance. It is probably the first effort that allows for both Visa's payWave and MasterCard's PayPass contactless payment to be used simultaneously, and... is using SIM cards with integrated NFC antenna chip solution, made by this same Gemalto company.
We'd be sure to have more on this as it unfolds. In the meantime, have a look at this video from last year, leaked from mobile payment trials with a prototype iPhone in Hong Kong. Not surprisingly, the video is again in French, but with English subtitles, and is worth checking out for where Apple might be heading.
source:
GigaOm