Garnet Red Samsung Galaxy S III graces its way to AT&T, pre-order one from July 15th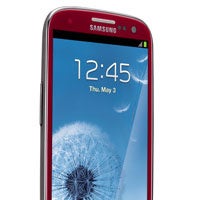 The
Samsung Galaxy S III
is the handset every cool kid wants these days - it's probably the most powerful Android device there is currently plus it's offered on all US carriers starting from today. But while you might be tempted to rush to the store and get the marble white or pebble blue one, wait a sec before you do that as we get to know that AT&T will sport a
gorgeous, classy garnet red Samsung Galaxy S III
.
Yes, AT&T is lucky enough to get its exclusive own color of the Galaxy S III and if red is your thing waiting three days wouldn't hurt too much now, would it?
That's when
pre-orders
for the red Galaxy S III start - on July 15th. It will be in stores exactly two weeks later on July 29th.
Now is this another color that Samsung will claim it invented? (It claimed so for the blue one!) We don't know, but what we do know is that with the red Galaxy S III you're not missing any of the fun - it sports the same gigantic 2 gigs of RAM and 16GB of internal storage, expandable via a microSD card.
source:
AT&T