Full metal jacket: Galaxy A3 vs A5 vs iPhone 6 and others size comparison
25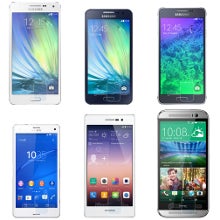 Samsung just announced the all-metal
Galaxy A3
and
A5
, with sealed aluminum bodies. The A3 and A5 are both Samsung's first contemporary phones that eschew the removable back cover and replaceable battery paradigm for a sealed chassis, crafted out of colored aluminum, with metal side rim, inducing the impression for the most premium-feeling devices it has crafted to date.
Together with the
Galaxy Alpha
, they are also its slimmest handsets to date, clocking in at just 6.7mm for the A5, and 6.9mm for the A3, which, given the aluminum chassis, is a great achievement, akin to what Apple did with the
iPhone 6
, which, however, has a protruding camera module on the back.
See how these stack up in terms of size, compared to other popular compact handsets in the chart below. It's pretty clear that these are arguably the sveltest, most beautiful Samsung phones ever made. The company's
Design 3.0
paradigm is shaping to be a winner here, though we wish there was a little less top and bottom bezel, but, oh, well. They even come in the same understated pastel colors as the
Note 4
, including pink and light blue, despite the all-metal wrappers, looking as premium as it comes. What do you think?