Full length video of the BlackBerry PlayBook presentation at TabLife posted by Rogers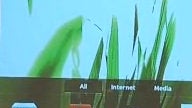 David Neale, the VP of Special Projects at RIM, confirmed at Roger's TabLife conference that that 4G is coming to the BlackBerry PlayBook at some point. Rogers finally posted the full eighteen minute video of the PlayBook tablet
presentation
online, showing some footage we haven't seen before.
RIM's tablet multitasking was demoed, but Android now has a similar solution with its latest
Gingerbread version
, so the BlackBerry PlayBook can scratch this one off from the list of advantages. A full HD video was played smoothly, despite that the prototype unit has not fully enabled the dual-core Tegra 2 inside yet. There are many other small tidbits in the full-length video below, which will be interesting if you are expecting the BlackBerry PlayBook with baited breath, although it is mostly interview-style.
via
Engadget