Full Apple chiefs interview transcript is out: iPhone is just an elegant, indispensable tool
37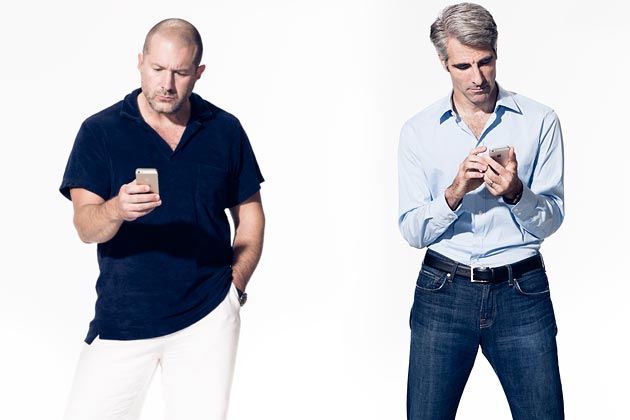 Bloomberg posted the full transcript of its mega interview with Apple's chief people - Tim Cook, Jony Ive and Craig Federighi - and there is a lot of material for sifting through to gauge how their minds, hence Apple's products, work.
After the full Tim Cook transcript, now it's time for the back and forth with the other two people who have the most say in the way the iPhone and iPad editions end up. On Apple's mission, Sir Jony Ive comments: "
This is probably a clumsy definition, but I think we try to make tools for people that enable them to do things they couldn't without the tool. But we want them to not have to be preoccupied with the tool.
"
The full extent of how deep Apple goes into the details of something it has already decided to be useful for people, yet challenging to implement, is shown in Craig Federighi's example on the issues they faced with the new
Touch ID fingerprint scanner
that got baked seamlessly into the home button:
Well, I mean, just to the broad point that you decide you want to do something like, "wouldn't it be great if you could use your finger to unlock your phone or to make a purchase?" It sounds like a simple idea. But how many places could that become a bad idea because you failed to execute on it? We thought, "Well, one place where that could be a bad idea is somebody who writes a malicious app, somebody who breaks into your phone, starts capturing your fingerprint. What are they doing with that? Can they reuse that in some other location? Can they use it to spoof their way into other people's phones?"

Well, that would be worse than never having done the feature at all if you did those things, right? And so you take that all the way to that spectrum, and we said, "My gosh, we're going to have to build in our silicon a little island, a little enclave that's walled off so that literally the main processor—no matter if you took ownership of the whole device and ran whatever code you wanted on the main processor—could not get that fingerprint out of there. Literally, the physical lines of communication in and out of the chip would not permit that ever to escape. It was something we considered fundamental to solving the overall problem.
Apparently, sometimes that process gets interrupted and half-baked products like Apple Maps get out of the door before they are ready for prime time, which explains why the former Steve Jobs darling - Scott Forstall -
was shown the door
, and why iOS 7 appeared, tearing apart
Forstall's skeuomorphic interface legacy
. There's a lot more in the full interview, so hit the source link if you are interested in all things Apple.