New York City's Wi-Fi kiosks have over 5 million users
4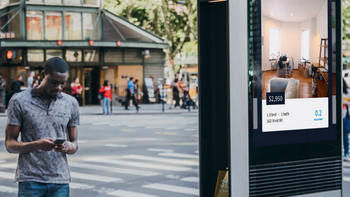 Back in 2014, we told you about New York City's plans to get rid of 10,000 pay phones that were still dotting the Big Apple's landscape.
The plan was to replace the pay phones with Wi-Fi kiosks
that would offer free Wi-Fi at speeds up to 1Gbps, and include charging stations and an Android tablet. And ads would be sold to help fund the project, eventually making it self-sufficient.
Nearly four years later, there are 1,700 kiosks in the five boroughs, and more than five million people are registered to access the free Wi-Fi connectivity, with 20 million Wi-Fi sessions taking place each week, along with 500,000 free phone calls. Because each LinkNYC kiosk uses fiber optics, it provides data speeds up to 100 times faster that public Wi-Fi. Each kiosk can support hundreds of Wi-Fi users simultaneously, standing within 150 feet of the unit.
Through the tablet on the kiosk, those in the city can make free phone calls to anywhere in the U.S., including calls to 311,411 or 911. International calls can be placed with the use of a calling card. And in case users do need to call 911, each kiosk features a red button that can be pressed to call for emergency help. Since navigating the city can be difficult, the tablet can also provide maps and directions to users. Each LinkNYC kiosk is equipped with two free USB charging ports. And both are connected to a power supply only, so the data stored by a mobile device is safe and sound.
The LinkNYC kiosks are built to withstand just about anything that can happen in New York outside of King Kong terrorizing the city. They are protected from the elements, flooding, earthquakes, vandalism and theft. They also are equipped with multiple cameras and sensors that can monitor foot, bike, and car traffic. Eack kiosk can also track passing mobile phones and tablets, listen to street noise and identify packages left by individuals.
While it all sounds great, there have been some issues. The browser on the tablet had to be disabled because the kiosks originally attracted porn-starved New Yorkers without their own internet connection. And ad revenue has fallen short of estimates. This has forced the consortium behind the project to delay paying New York City its 50% share of ad revenue until the last year of the contract, which is in 2026. 10% interest will be added. By then, the plan is to have 7,500 LinkNYC kiosks up and running.