Free Apple App of the week is iMessage chess game Checkmate!
2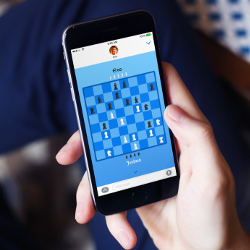 Chess game
Checkmate!
is this week's Apple Free App of the Week. There is something that players need to keep in mind; this is a chess game that is played over iMessage and you get to battle both family and friends. To start a new game, simply begin a conversation, tap on "New Match" and make your first move. Checkmate! has been translated into twenty different languages and can be played in locales around the world.
This is a whole new fun way to play Chess. Launched last February, players have given the game an average of 3.5 stars. You can install the game by using the direct link available by clicking on the sourcelink. Normally 99 cents to purchase, Checkmate! by BorderLeap is free through this Wednesday.
Multiple games can be played at the same time, so if you have the brain power to squeeze out several matches at one time, go to it! There are no in-app purchases that you can make, and several themes are offered for free. And if you keep playing, who knows! You might become a chess grandmaster before too long.
source:
Checkmate!