Foursquare gets major upgrade tonight for iOS and Android to version 3.0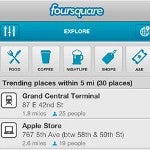 Foursquare gets a major upgrade on the iOS and Android platforms tonight. The application that rewards you and your pals for frequenting a specific eatery or store, will launch version 3.0. One of the most important new features is the "Explore" tab which lets you type what you are looking for and get a response based on places you've visited, where your friends go, what is popular with other people, etc. The suggestion you are given will include the reason behind the recommendation. Connected to "Explore", the new "Me" tab helps you find places that your friends visit the most.
The leaderboard has now been changed to show a sliding 7-day scale of points earned by you and your pals. Checking in now sets off a number of potential points-earnings actions. Trying new places, a new restaurant, meeting old buddies, getting a group together-all these things that might seem like nothing to you could actually be earning you points on the upgraded Foursquare.
At the heart of the application is the ability to get special treatment from a merchant who-thanks to Foursquare-now recognizes your loyalty and the amount of time and money you spend at their location. Foursquare is going beyond rewarding the Mayor and his friends. So later this week, merchants will be allowed to offer specials to swarms, groups of friends, regulars, newbies, Mayors, or everyone. And listed on the Places screen on the app will be all the Specials nearby which makes it easier for you to find where you should go to take advantage of your Foursquare status.
In addition to the 3.0 upgrade for iOS and Android, BlackBerry users will get an upgrade this week which will not include the 3.0 improvements, and the company hopes to have the 3.0 upgrade soon for Symbian and Windows Phone 7 users.
source:
Foursquare
via
AndroidandMe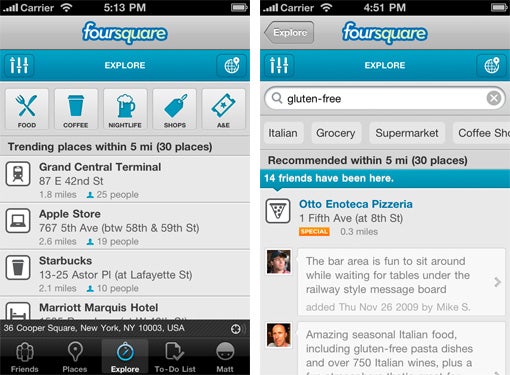 Explore finds places for you to, uhhh...explore, based on your likes and your friends preferences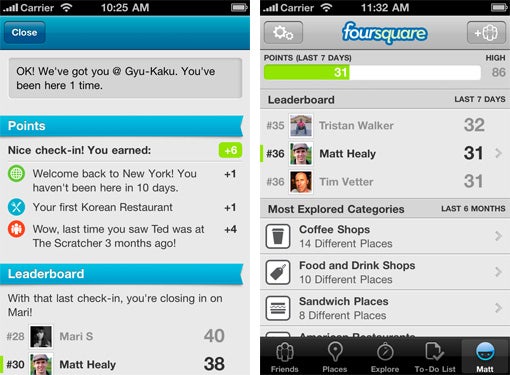 The leaderboard uses a 7 day scale of points earned by you and your buddies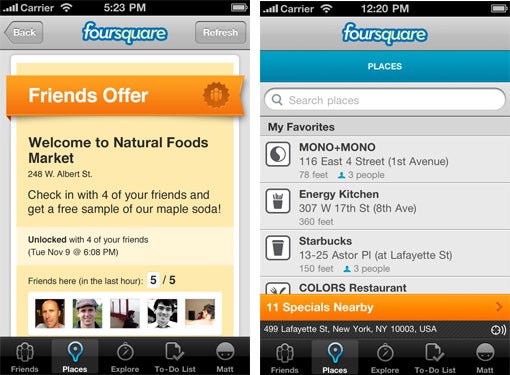 The Places screen shows specials available to you, that are nearby