Fossil outs new connected hybrid watches: its smallest yet
2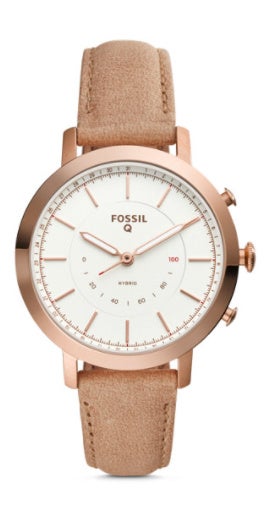 The new Fossil Q Neely
When it comes to smartwatches, all except for the Apple Watch come in two sizes: big and bigger. The new Fossil connected watches finally bring the hybrid smartwatch to a small form factor that more women can wear.
Based off Fossil's most popular watch designs, the new Fossil Q Neely and Q Jacqueline are the tiniest in the family with watch size of just 36mm. The price for the new watches starts from $155 and their release date is set for October 22nd.
So what smart functions do these new watches have exactly?
Not much different from earlier hybrid watches: they will count your steps, track sleep and vibrate when you get new notifications. You have three customizable buttons on the side that can show you the date, control music and act as a remote shutter, taking a photo using the phone's camera. That smaller dial inside shows how close are you to achieving your daily step goal.
Best of all, you get up to six months of battery life with Fossil's new watches.
Finally, Fossil has also released a new app for iOS and Android to go with its smartwatches. It has a revamped design and new functionality with most used features grouped on the main screen and visualizations for progress with your daily goals.