Formula 1 race driver will start with an Angry Birds helmet in this weekend's Australian Grand Prix
3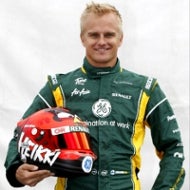 Rovio Entertainment has partnered with their countryman Heikki Kovalainen, who drives in Formula 1, and has come up with a great Angry Birds helmet for him.
The head-protector is in bright red, with Heikki's name written in the Angry Birds font on the side, and should stick like a sore thumb out of his Caterham race car painted in green and yellow.
The partnership spans to other co-branded merchandise and even an upcoming web-based game, so there is plenty to look forward to for this weekend's Australian Grand Prix, especially if you are the type that always falls asleep by the humming of Formula 1 motors.