Fitbit Versa is a cheaper alternative to the Apple Watch, up for purchase at Amazon for $200
3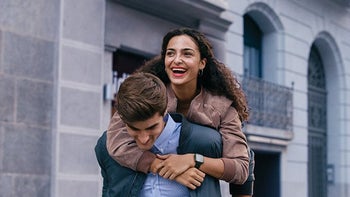 Fitbit
introduced its newest smartwatch
, the Versa one month ago, but if you didn't pre-order it yet, you can now purchase one from Amazon for just $199.95. It's the same price announced by Fitbit back in March, and one that's vastly inferior to other Apple and Samsung smartwatches.
The Versa strongly resemblance the
Apple Watch
design-wise, but it promises no less than 4 days of battery life (varies with use and other factors) and it's got a much lower price. If you've decided to go for Fitbit's new smartwatch, then you should know that the Versa comes in five color versions: Black, Gray/Silver, Peach/Rose, Charcoal Woven, and Lavander Woven.
The first three color variants are available for purchase for $199.95, whereas the other two are priced a little higher at $229.95. The more expensive versions come with built-in NFC (Near Field Communication) chips inside, which enable users to take advantage of the
Android Pay service
.
The
Fitbit Versa
does sports tracking, notifications, and music. As a matter fact, you can store more than 300 songs on the smartwatch or download stations from other music streaming services like Pandora and Deezer.
Also, it comes with more than 15 exercise modes like Run or Swim that allow users to record workouts and connect to smartphone GPS for more precise real-time pace & distance. It's waterproof (up to 50 meters) and has GPS integrated (but still needs to be connected to your phone).