Fitbit's new Versa smartwatch copies the Apple Watch, but beats it in battery life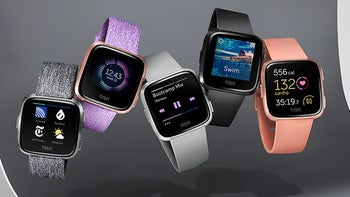 Fitbit is probably the company that suffered the most from Apple's entry into the smartwatch market with the
Apple Watch
. The Apple Watch ate into Fitbit's revenues and the company tried to counter it in fall of last year with a distinct smartwatch of its own, the rugged-looking Fitbit Ionic.
But now, Fitbit seems to have decided that the best way to beat Apple is to... copy it.
The newly unveiled Fitbit Versa looks a lot like the Apple smartwatch, except that it lacks the spinning digital crown. Instead of the rugged look and sharp corners of the Ionic, the Versa is a smaller, more lightweight watch with elegant curves and a few new features that both men and women will appreciate.
Here are the Fitbit Versa highlights in just one sentence: 24/7 heart rate, phone-free music, apps & 4+ day battery into a super lightweight design with a bright touchscreen.
Sports Tracking
There is one feature that is missing on the Fitbit Versa, so we'll start with it right away: GPS. If you are looking for accurate GPS tracking for your runs, look elsewhere.
For all else, the Fitbit Versa seems well equipped. At the core of the experience is Fitbit's experience with tracking workouts and providing you that data in a clean and easily digestible way via the Fitbit app. Here is the type of data that you can expect to see tracked with this smartwatch:
time in light, deep and REM sleep
coaching and on-screen workouts
swim tracking
etc
The neat thing about workout tracking is that it all happens automatically, so you don't need to manually input a workout everytime you go for a short run. Automatic tracking works with activities like sports, runs and aerobic workouts. The up to 50-meter water protection and swim tracking are two other cool options.
Notifications
The Fitbit Versa wants to be a true smartwatch and that means that it will sync up with all of your devices - iOS, Android and even Windows.
The watch will display call, calendar, text, and app alerts, and an upcoming feature is sending quick replies to messages (coming soon to Android only). Clearly, this means notifications are somewhat limited compared to what you can get on the Apple Watch or Android Wear, but it still means that the basics are covered.
Music
The Versa has a built-in Bluetooth chip and you can easily pair it with
wireless headphones
. The watch features storage enough to get over 300 songs offline and play them back when you go for a run without your phone, which is convenient.
Customization, bands and other features
In terms of customization options, the Versa is offered in a selection of three color and two more special editions. You have various bands and accessories, while the smartwatch itself also boasts a selection of different watchfaces for different occasions.
There are other new features in the Versa that are similar to what you can get on an Apple Watch: guided breathing sessions is one example. The Versa is also equipped with an NFC chip and you can register your card with it and use it for wallet-free payments. Another new feature is targeted specifically at women and this is the ability to track your periods.
Price and availability
The Fitbit Versa price is set at $200, which is more affordable than rivals from Apple and Samsung, and pre-orders are open right now on the company's official website. Its 4-day battery life is probably its biggest selling point, but is that enough to convince buyers to buy this watch?