Fist of Awesome beat 'em up pixel-art game lands on Android and iOS
4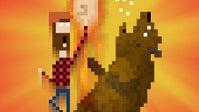 Fist of Awesome is a game that brings a new and original beat' em up experience dressed in good 'ol retro pixel-art clothes. The game started as a Kickstarter project and got more than double its projected funding clearing the way towards a launch not just on mobile, but also on PC, Mac and even Ouya.
In the game you take over the role of Tim Burr, an angry lumberjack whose family has suddenly disappeared and house burned down. Then, he discovered the world is now ruled by bears and had to take care of this situation by punching them in the face. The game then mashes up time travel for a truly crazy experience.
It also happens to pay its tribute to classic games like Double Dragon and Final Fight by emulating them in a lot of ways. This is the action packed punching game that will definitely keep you awake and kicking. It costs $3.99 and is available on Android and iOS at the links below.
Download Fist of Awesome on
Android
|
iOS