First camera samples with ZenFone 2 vs Note 4 vs iPhone 6 Plus mark it as a low-light star
29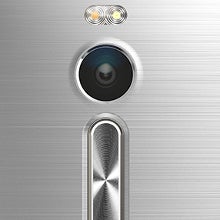 It might not be a
ZenFone Zoom
endeavor, but the camera at the back of the
ZenFone 2
is still a pretty good deal, especially considering the phone's $199 starting price without a contract. It is a 13-megapixel unit with 5 element, f/2.0 aperture lens, complemented by a dual-color "Real Tone" LED flash. At the front, we're looking at a respectable, 5-megapixel selfie snapper with wide-angle (85-degree) lens, and an option to shoot selfie panoramas.
Asus also made it clear over and over again that its
PixelMaster
software is available with both cams and offers goodies such as a low light shooting mode that can supposedly snap photos that are up to 400% brighter, though the digital noise at this level will likely be pretty visible, too. We actually snapped a few photos against the
Note 4
and
HTC One (M8)
in the dimly-lit expo rooms where the ZenFone 2 lair was situated, and found out that what Asus claims about the low-light performance holds water.
Overall, we came up rather content with what we are seeing, again considering the price tag. Check them out for yourselves in the slideshow below, paying special attention to the picture of the butterfly, made in complete darkness, which the ZenFone 2 did with 1/4 second shutter speed, and ISO 1600, compared to the One (M8)'s 1/9 second and ISO 3200. These are the full-size untouched photos, so you might have to arm yourself with some patience while they load.