Factory Image available for Sprint's Samsung GALAXY Nexus, covering Android 4.1.1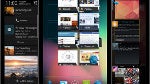 So your Sprint branded
Samsung GALAXY Nexus
has been bricked. What can you do? Where do you turn to? One place you might want to go is the
Factory Images
page of Android Developers. A Factory Image is a file that allows users to re-install the firmware on their phone as though it just came right out of the factory with that new smartphone smell. While the Samsung GALAXY Nexus has been around for a while with the Sprint brand, this is the first FI that it has had and covers Android 4.1.1. Once the new updates come out, like Android 4.1.2 and Android 4.2, you can expect Factory Images for those builds as well.
To use the Factory Image, you will need the
fastboot tool
found in the Android SDK. Hopefully, you will never have to use the files, but if you do need them, it will restore the phone to factory settings including all radios, and the bootloader. Speaking of the bootloader, it must be unlocked when you are loading the Factory Image onto your phone. Once it is loaded, you
need to lock
the bootloader immediately.
source:
AndroidDevelopers
via
Phandroid

Android 4.1.1 Factory Image for the Sprint version of the Samsung GALAXY Nexus