Facebook update lets users remove notification dots, manage navigation bar tabs
1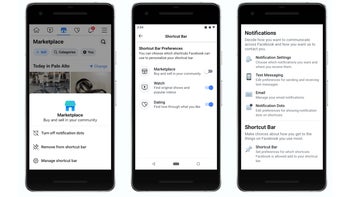 It looks like Facebook has decided to let users get rid of those pesky red dots that pop up from time to time even when for notifications that you've already checked a while ago. As a bonus, the social network will allow its users to remove certain tabs from the Facebook navigation bar like Marketplace and Watch.
Although no official statement has been issued yet,
TechCrunch
reports Facebook admitted that it is now pushing out an update that will introduce new control options for iOS users, which will allow them to do all those things mentioned above.
We are rolling out navigation bar controls to make it easier for people to connect with the things they like and control the notifications they get within the Facebook app.
A new Shortcut Bar Settings menu will be added after the update, which enables iOS users to remove many tabs, including Marketplace, Watch, Groups, Events, Profile, Friend Requests, News, Today In, as well as Gaming and Dating. Also, another option lets users completely silence notification dots.
All iOS users getting the update will find the new options under More tab / Settings & Privacy / Settings / Shortcuts menu. According to Facebook, Android users will receive the update as well in the next few weeks.