Facebook to soon update its iPhone app with Chat Heads, but the experience will be limited
3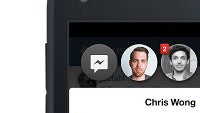 Facebook unveiled its immersive
Facebook Home
experience on Android, an overlay many analysts said is trying to take over Google's platform. And while we do think that's far-fetched, we do agree about the depth and immersiveness of Facebook Home on Android.
But what about Apple's iPhone? Facebook CTO Mike Schroepfer and mobile head Cory Ondrejka spoke at the Dive Into Mobile conference confirming that iPhone will get only the
"Chat Heads"
feature in the near future. The Apple iPad has just gotten the update.
Chat Heads is one of the best parts of the new Facebook Home that is already available on all Android devices. It basically pops up a little bubble whenever someone messages you on Facebook. That small bubble with the person's picture stays on top of everything, no matter if you are in or out the Facebook app, so it is truly persistent.
And while the Facebook CTO confirmed that they'll
"shortly be announcing an update to the iOS app which brings Chat Heads,"
he did say that Chat Heads only works if you are in the Facebook app. But if you are just casually browsing around the phone as you would most of the time, the Chat head would not appear, so it is a much more limited experience iPhone users will be getting.
The reason for that are of course the limitations iOS has as a closed ecosystem. While on Android you can just decide something and go ahead, and do it as Facebook did with Home, on iOS you have to talk to Apple and hope you get a positive answer. Waiting times for new features are tied to updates and are also fairly long.
source:
AllThingsD