Facebook users will now see reminders and showtimes in movie ads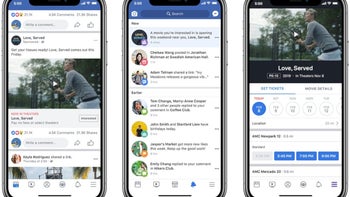 Facebook has just
started to roll out
two new ad solutions aimed at film studios that want to increase ticket sales, as well as people who want to find movies they want to see. The new ad solutions, movie reminder, and movie showtime are now available for all film studios in the United States and the UK.
But what does that mean for consumers? It's quite simple, if you discover a film that you like months before its release, you will probably need a reminder for when the movie will hit theaters.
With movie reminder ads, when you see an ad for a film in your
News Feed
, you will be able to tap an
Interested
button to receive a reminder in your Facebook notifications when the movie hits theaters. The notification will send you to the movie detail page on Facebook where you will be able to see showtimes and purchase tickets if this feature is available.
Movie showtime ads for films that are already in theaters is another new feature rolling out today. If you're interested in a certain movie that appears in an ad on your News Feed, you can tap a
Get Showtimes
button to go right to the Facebook movie details page to learn more about where and when to see the film.