Extremely affordable quad-core Micromax A116 Canvas HD arrives, sold out in hours
38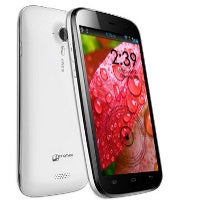 When you hear about a quad-core phone with a large HD screen, you'd probably think about a very expensive top of the line device like say the Samsung Galaxy Note II or the LG Optimus G. But while those devices cost a ton of money, you can now get a quad-core phone for an off-contract price of merely $260, almost a third of the price of say the Note II.
That quad-core phone is one of many more to come, and it is the Micromax Canvas HD, sold in India for the extremely affordable 13990 rupees ($260). The Canvas HD packs a 5-inch 720p IPS display, an 8-megapixel camera and dual-SIM functionality, all of that running on Android 4.1.2 Jelly Bean.
How is it even possible to put all of that into such an affordable phone? The key is the new chip by Mediatek, the MT6589, a quad-core solution that costs a fraction of what silicon like the Exynos chip cost.
Truth is, quad-core does not tell the whole story, and it is the actual performance that matters. The MT6589 is based on the new low-energy Cortex A7, delivering a performance of 1.9DMIPS per MHz.
Now, to put this number into perspective, we'd need to mention that the Krait processor in Snapdragon S4 MSM8960 delivers 3.3DMIPS per MHz. But since it still ships in a dual-core setup in most phones, the theoretical performance of the quad-core Canvas HD would be almost on par with a dual-core Snapdragon S4. Quite an achievement.
It's no wonder the Canvas HD sold out in hours after its launch in India. And while the Micromax device is only available there, a ton of other handsets with the MT6589 chip are coming soon from China and will definitely end up on eBay and other retailers.
source:
Micromax