Eric Schmidt pledges Google's support to manufacturers in patent lawsuits
37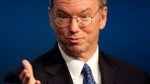 Fear now Android manufacturers, Google is continuing its pledge to stand by your side in all of the myriad patent lawsuits that have been filed, so says Eric Schmidt himself. Google has already made good on this promise, but Schmidt wanted to reiterate the point on his recent good will trip to Asia.
Much of the manufacturing and supply chain for Android hardware comes from Taiwan, so it seems Schmidt wanted to reiterate Google's promise. This may have been motivated by the recent news which came from the Steve Jobs biography that Jobs had made it his mission to
"destroy Android".
Google has already gifted nine patents to HTC for its defense against Apple, and HTC quickly used those patents to
counter-sue Apple
.
During the trip, Schmidt told reporters, "We tell our partners, including the ones here in Taiwan, we will support them. For example we have been supporting HTC in its dispute with Apple because we think that the Apple thing is not correct."
source:
Reuters
via
The Next Web