HTC sues Apple using nine patents received from Google
68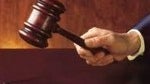 Bloomberg is reporting that Taiwan based HTC is fighting back against Apple with a new lawsuit filed in Delaware, claiming that Apple infringed on nine patents
that HTC recently acquired from Google
. According to information from the USPTO, these patents originated at Motorola, Palm and Openwave Systems and were owned by Google who transferred them to HTC on September 1st.
The suit alleges that Apple infringed on four of the patents that originally belonged to Motorola. Three other patents that HTC claims that Apple illegally used came from Openwave with the remaining two starting life at Palm. Apple has filed patent infringement suits against a number of Android handset makers including
Samsung
,
HTC
and Motorola. The ball is back in Apple's, ahem, court.
source:
Bloomberg
via
Engadget