Eldar Murtazin: upcoming aluminum-clad Nokia Catwalk is a top-notch device, hindered by WP8
76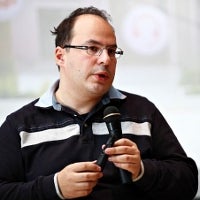 Russian tech blogger Eldar Murtazin and Nokia have had a rocky relationship ever since he leaked the
N8
with unflattering remarks, and the Finns unleashed the Russian authorities on him to reclaim the prototype.
At MWC 2013, however, tech journalists were shown some of the upcoming Nokia flagships for the year, and he had only nice things to say about the aluminum-clad Nokia, codenamed
Catwalk
, which is allegedly fusing together the PureView Phase 2 camera tech from the
Nokia Lumia 920
, and Windows Phone 8 in a
slim and slick metal chassis
, doing away with the main complaint about the 920 - its chubby and hefty physique.
Still, while praising the handset's design and camera, saying that it could become one of the most popular phones this year on these features alone, Eldar managed to snub the handset's expected sales somewhat by dissing the operating system: "
There is Windows Phone inside, it did not change and it spoils all of the fun. 'Oh, Windows Phone, why are you not Android' said people around, shaking their heads
," wrote he.