Nokia to keep PureView Phase 1 and 2 separate this year, prepping aluminum-clad EOS and Catwalk for a slimmer fit
32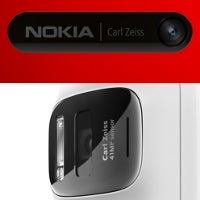 If you've been longing for a merger of Nokia's
PureView Phase 1
, as found in the
808 PureView
, and Phase 2, as found in
Lumia 920
, camera technologies, it might not happen this year.
EOS
, which will use big sensor, similar to the 808 PureView and pixel-binning for creating stunning images out of a Windows Phone device. The new phone will feature aluminum design with square edges, and be one of the first in a polycarbonate design shift Nokia will undergo this year. The EOS will reportedly hit AT&T later in the year.
The same info was confirmed in a tweet by Flavio Pic, who has leaked Nokia-related info before with a steady rate of hitting the bull's eye, which you can see on the right.


As for PureView Phase 2, or the optical image stabilization found in the Lumia 920, this will be featured in a new handset also, again aluminum-clad, to dispel with the 920's biggest drawback - its size and heft. This more compact OIS phone is codenamed
Catwalk
for now (clever), and will debut in the summer, the sources indicate.