EVO 4G overclocked by 30% to 1.267GHz
This article contains unofficial information.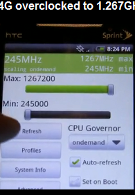 Xda-developer member coolbho3000 has overclocked his recently purchased EVO 4G by nearly 30%. After the boost, the phone was running at 1.267GHz, up from the stock 1GHz provided by the Qualcomm Snapdragon chip. With that speed, the device is most likely able to warm your toes on a cool winter's night. But it is summer now, and the important thing is that this handset is acting pretty stable. "No crashes yet," he says. Clicking for a Linpack benchmark test, the MFLOPS reading of about 6.95 (MFLOPS measures how fast the processor's floating-point unit [FPU] is operating), speeds up to a reading of 8.77 once the phone is overclocked. For those of you who want to put your own unit through the stress of overclocking, don't fret. Coolbho says that he will be giving out the source to this kernel and calls it a "fairly easy tweak". He also vows to get his phone running even faster. That sounds cool, bro.
source:
YouTube
via
AndroidGuys