Dolphin Browser updated to include HTML5 web app store
4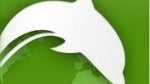 The Dolphin Browser for Android users has been updated and the third party browser has a number of new features. One useful change brings you to your menu, tab list or gesture/voice commands with a
single swipe
. While using the browser, you can now search sites like Amazon, Twitter, Wikipedia, eBay, Youtube, Twitter or Facebook directly from the URL bar. And to make things easier, you can now drag and drop 60+ speed dial numbers into specific speed dial slots.
But the biggest change is the inclusion of a web app store consisting of HTML5 apps. Dolphin wants to be your second home page, so instead of running native apps, you open them on the browser. The store has over 200 apps that can be put into one of those speed dial slots we referenced above. Does this mean that a Dolphin OS is on the horizon? The company says no, it is happy just to have its browser pre-installed on a number of Android phones in Japan and in China.
With 80 million users, Dolphin is still growing. The UI has been updated, so if you've gone away from Dolphin back to stock Android, you might want to give it another look. And if you've never used the Dolphin Browser before, you should try it out at least once. After all, it is a free download from the Google Play Store.
source:
DolphinBrowser
via
TechCrunch