Did you know that MediaTek's top Helio X10 chip comes in 3 versions: here are the differences
21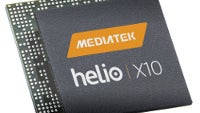 Times are changing: while just last year, most top-end devices were running almost exclusively on Qualcomm's Snapdragon chips, these days, we have way more diversity with the extremely well-performing Exynos chips in Samsung Galaxies to the very affordable yet plenty powerful MediaTek chips.
It is the MediaTek silicon, however, that is bringing the real revolution when it comes to the most popular segment of the smartphone market: affordable smartphones. These are the phones that people buy the most, and hence - that make for the biggest change in the lives of millions.
The latest example of the shocking affordability of MediaTek-powered devices is the Xiaomi Redmi Note 2 - a phone made for China and carrying the MediaTek Helio X10 system chip. This top-of-the-line MediaTek SoC is found in the $600+ HTC One M9 Plus, but now it can also be bought with the Redmi Note 2 that costs just $125 (MSRP in China).
But did you know that there are three distinct version of the Helio X10 and they do differ slightly? We have rounded up these differences right below.