Did anyone nab an iPhone X deal on Black Friday or Cyber Monday? Not really, say analysts
7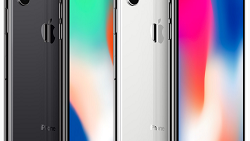 If you have been hoping to nail an
iPhone X deal this past Black Friday
, you have been in for a disappointment, analysts are categorical, as the offers simply weren't what they were last year, when carriers went crazy with BOGO offers for each and every major handset in their roster. This made a dent in their bottom line the previous holiday season, so they seem to have learned their lesson.
In fact, research firms noted that only
Verizon
ran a 50% off major Androids promo on Black Friday, while the rest stuck with their existing offers. Granted, these included some
enticing BOGO deals
from the rest of the carrier bunch, but not for the
iPhone X
, and some of these offers have been running for a while anyway.
"
[T-Mobile] noted that the X has seen great demand and better supply than anticipated
," according to Jeffrey Kvaal of Instinet. "
Both [T-Mobile] and [Verizon] expect X demand to spill into March. Fewer promos likely recognize the telcos are selling all they have
." Moreover, both Sprint and T-Mobile have to focus on improving their bottom lines after the
failed merger talks
, so we may be stuck with a promotion-less carrier era for a good while still.