Deus Ex Go goes on sale ($0.99) ahead of upcoming Puzzle Maker update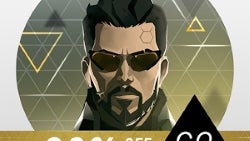 If you ever wanted to try Deus Ex Go, you can now do it for just a dollar, which is next to nothing. Publisher Square Enix has reduced the price in preparation for the big Puzzle Maker update, which will let players create and share custom levels. It will go live on Thanksgiving, November 24.
Deus Ex GO is a turn-based puzzle "infiltration stealth" game set in a stylized interpretation of the Deus Ex Universe. You play as covert agent Adam Jensen and you hack, fight, and use bionic augmentations to solve intricate puzzles and unravel the conspiracy behind a terrorist plot.
The game features more than 50 story levels, along with live content, unique enemies (such as guards, turrets, drones, and walkers), hacks, and augmented puzzles that require you to use Adam's augmentations. Deus Ex Go is the third title in the Go series, together with Hitman Go and Lara Croft Go.