Debut episode of Snapchat's first video series gets terrible reviews
9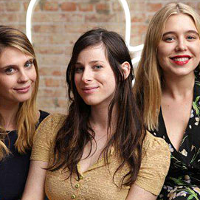 Based on the opinion of viewers and reviewers, it's too bad that Snapchat users couldn't make the app's debut episode of its first original video series disappear after ten seconds. As you probably know, Snapchat is a messaging app where messages sent between users disappear after ten seconds of being viewed. Looking to branch out into original content, a 5-minute comedy titled
Literally Can't Even
premiered on Saturday.
The show was written by, and stars Sasha Spielberg (yes, she is
HIS
daughter) and Emily Goldwyn. The episode is actually designed to disappear, but not until 24 hours has expired. Interestingly, the episode was filmed to fit into a smartphone screen in portrait mode and shows the view from the character's perspective.
The first episode, "
Sip & Surf Pool Party XXX,
" was about two girls deciding on whether or not to attend a pool party. Eventually they go, and hijinxs ensue. If you missed the episode, don't fret. It has already been posted to YouTube.
While Snapchat gets credit for presenting the show as tailor made for smartphones, if the writing doesn't pick up,
Literally Can't Even
will become
Literally
Never Was.


source:
SlashGear
,
@mekosoff