T-Mobile's free MLB.TV deal is back in 2021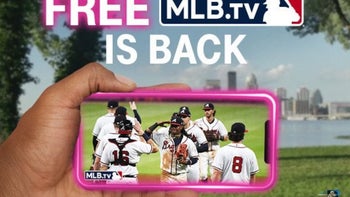 T-Mobile
is bringing back the annual free season of MLB.TV deal for its customers. Eligible customers can apply for a free subscription to MLB.TV starting March 30, according to an ad posted on
Reddit
.
The ad doesn't specify if this is an All Team subscription or you'll have to choose a single team, but it's probably going to be the former just like last year. Also, there's a high chance that the offer will extend to Sprint customers too since the carrier became part of T-Mobile last year.
For those who've never used the
MLB.TV offer
from T-Mobile, the free subscription includes all the premium features of the MLP App (a $19.99 standalone value), including in-market audio, enhanced pitch-by-pitch tracking, and much more.
Last year, T-Mobile offers a free subscription to The Athletic to go along with the free MLB.TV subscription (a $59.99 value), but there's no telling what will happen this year. The Athletic offers local and national sports coverage via ad-free written content and a network of nearly 150 podcasts.