Save up to $600 on the Google Pixel 4/XL at Verizon
1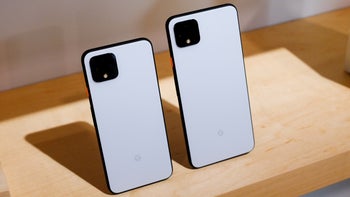 If you happen to be in the market for a Pixel phone and you're also a Verizon customer, then you're in luck. The Big Red now offers a $300 discount on the Pixel 4 and Pixel 4 XL, as long as you stick with the carrier for two years.
You can choose to pay for your newly acquired phone upfront or you can go for the monthly payments. Either way, you must remain a Verizon customer for 24 months. In case you opt for the monthly payments, the
Pixel 4
drops to just $20.83/month (usually $33.33/month), while the Pixel 4 XL will cost $24.99/month (usually $37.49/month). Those who prefer to pay upfront will be able to get the Pixel 4 for $500 and the
Pixel 4 XL
for $600.
Now, if you by any chance have an older smartphone that's eligible for trade-in and you want to score an even better deal, you can save up to $300 when you upgrade to a new phone. That will reduce the cost of the Pixel 4 and Pixel 4 XL by $600 if your smartphone is eligible for a $300 trade-in.
Here are some of the phone that you can trade-in and get up to $300 more:
iPhone 11
, iPhone 11 Pro, iPhone XS Max, iPhone X,
iPhone XR
, iPhone 8,
Samsung Galaxy S10
, Samsung Galaxy S9, Samsung
Galaxy Note 9
, Pixel 3/XL,
LG G8 ThinQ
, and LG V50 ThinQ.
If you have one of the slightly older flagships like the
iPhone 7
, Pixel 2/XL, LG G7,
LG G6
, Samsung Galaxy S6,
Galaxy S7
, Galaxy S8, or
Note 8
, you will get up to $200 trade-in credit with an upgrade, credited to your account over 24 months.
Finally, there's one more Pixel-related deal up and running at Verizon, which will let you save $300 on the Pixel 4/XL and get $800 off a second Pixel 4/XL. Simply add both phones with monthly device payments to your cart, add one of them as a new smartphone line on any Unlimited plan to your account, and you should get $800+$300 credited to your account over 24 months.