Deal: Grab an unlocked Moto E Plus for just $100 (today only)
0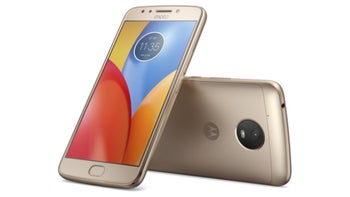 One of the cheapest Motorola smartphones, the
Moto E4 Plus
is now even cheaper. It's the perfect device if you need a second phone or simply don't want to spend a small fortune on a smartphone. To make things even more appealing, the
Moto E4 Plus
is compatible with all US carriers, including AT&T, T-Mobile and Verizon.
The North American version of the phone comes with 32GB storage and usually sells for $150, but you can grab one for just $100 via B&H. The only "problem" is that you'll have to go with the Fine Gold color, since the more traditional Iron Gray is not available. On the bright side, you'll be getting a Mint Mobile 3-month 8GB prepaid SIM card kit for free ($60 value).
Unlike the regular
Moto E4
, the Plus model comes with a larger 5.5-inch display and 3GB RAM, as opposed to a 5.0-inch display and 2GB RAM. But the most noteworthy upgrade is the massive 5,000 mAh battery that powers the
Moto E4 Plus
.
Also, the camera configuration is slightly different as well, but the main takeaway is that the Moto E4 Plus offers great value for money, so why not check it out at the link below before the deal runs out at the end of the day.