Motorola Moto E4 Plus Review
9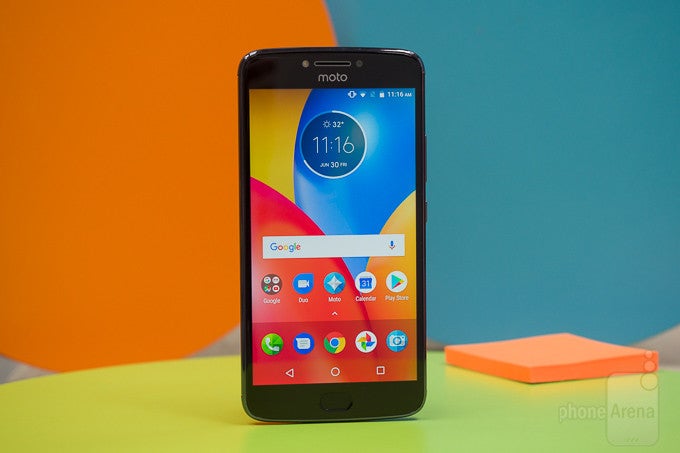 Introduction
In the world of smartphones, the true rock stars are often the top-tier heavy-hitters — your Samsung Galaxy S-es, your iPhones and Premium Xperias. These are devices that are filled to the brim with the latest and greatest in commercially available hardware and carry a justifiably high price tag for that. But there are also a few that become popular for going in the opposite direction — handsets that make the most out of the low-end hardware they're built around and provide the budget conscious with a surprisingly solid user experience.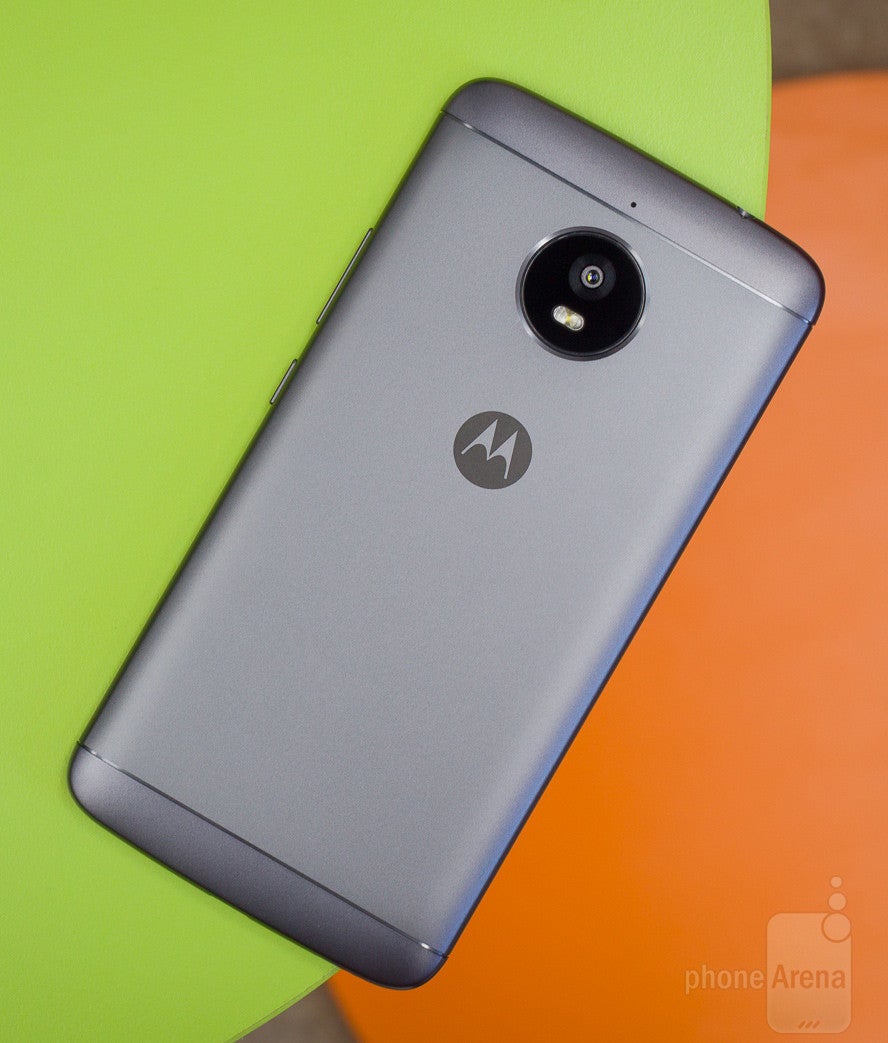 Motorola's Moto G series is loved for just that reason — they are known as some of the best bang-for-the-buck phones you can go for, with a snappy interface and good camera performance. But there's also the Moto E family of handsets. On one hand, they have always been even more affordable than the Moto Gs, but on the other, they have had the reputation of phones that don't shine in any one department beyond pricing.
With the introduction of this year's
Moto E4
, Motorola added a Plus variant, with a higher-resolution camera sensor and a massive, 5,000 mAh battery. It seems that, for the first time in the line's existence, it may have its own heavy-hitter all while not breaking the bank. Let's take a closer look at it and see what it's about.
In the box:
Moto E4 Plus
Charger with fast charge support
Micro USB data cable
Quick guide booklet
Design
The E series gets its fingerprint badge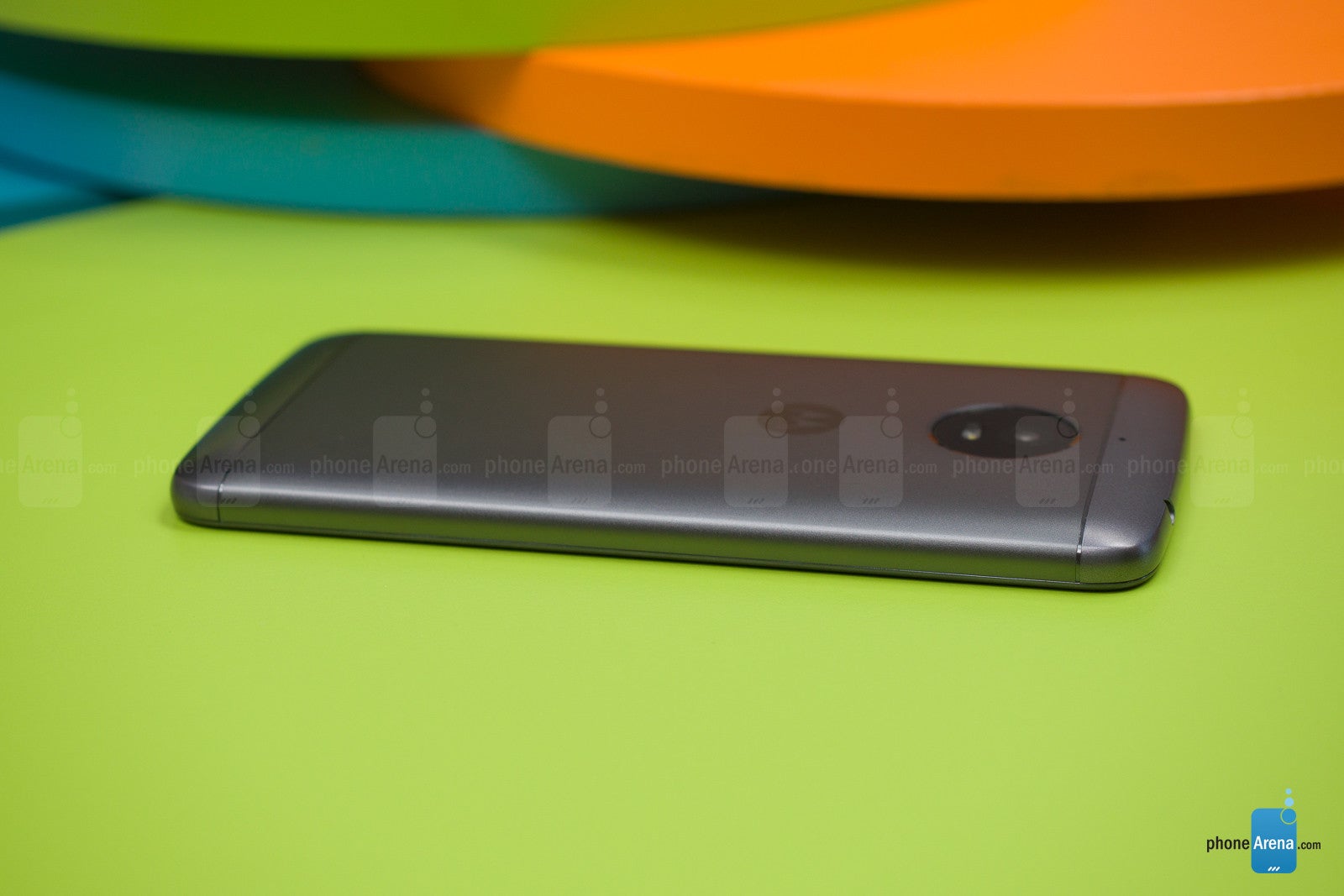 Without meaning to sound mean, we'd describe the
Moto E4 Plus
as an adorable little brick. Yes, it's back cover is made of metal and its matte finish feels nice to the touch. However, in today's smartphone world, we would say that its design looks just "plain" and it's a bit too chunky, though that's understandable given the 5,000 mAh cell that it holds inside. Do not get us wrong, we are by no means calling it "ugly", but rest assured that it won't be turning any heads when laid down on a table.
In an unforeseen turn of events, the camera module at the back is not a protruding hump, but a caved-in dimple. Our minds are at ease that laying the phone down on a hard surface would not result in any damage to the camera lens, which we appreciate, but we fear that the circular pocket's rough edges may eventually get filled with dust and grime, which would be hard to get out. We wish the dimple had more of a slant to its walls, making it easier to for dust to just slide out.
The power button and volume rocker are clicky, with a nice amount of travel to them, but we did find their positioning to be slightly awkward for the way the phone handles. The fingerprint scanner is a new addition to the Moto E family and can double as a full replacement for the phone's virtual navigational buttons. It's placed in a nicely beveled ellipse under the screen and finding it by touch feels satisfying every time.
Display
A phablet screen that doesn't get a phablet's resolution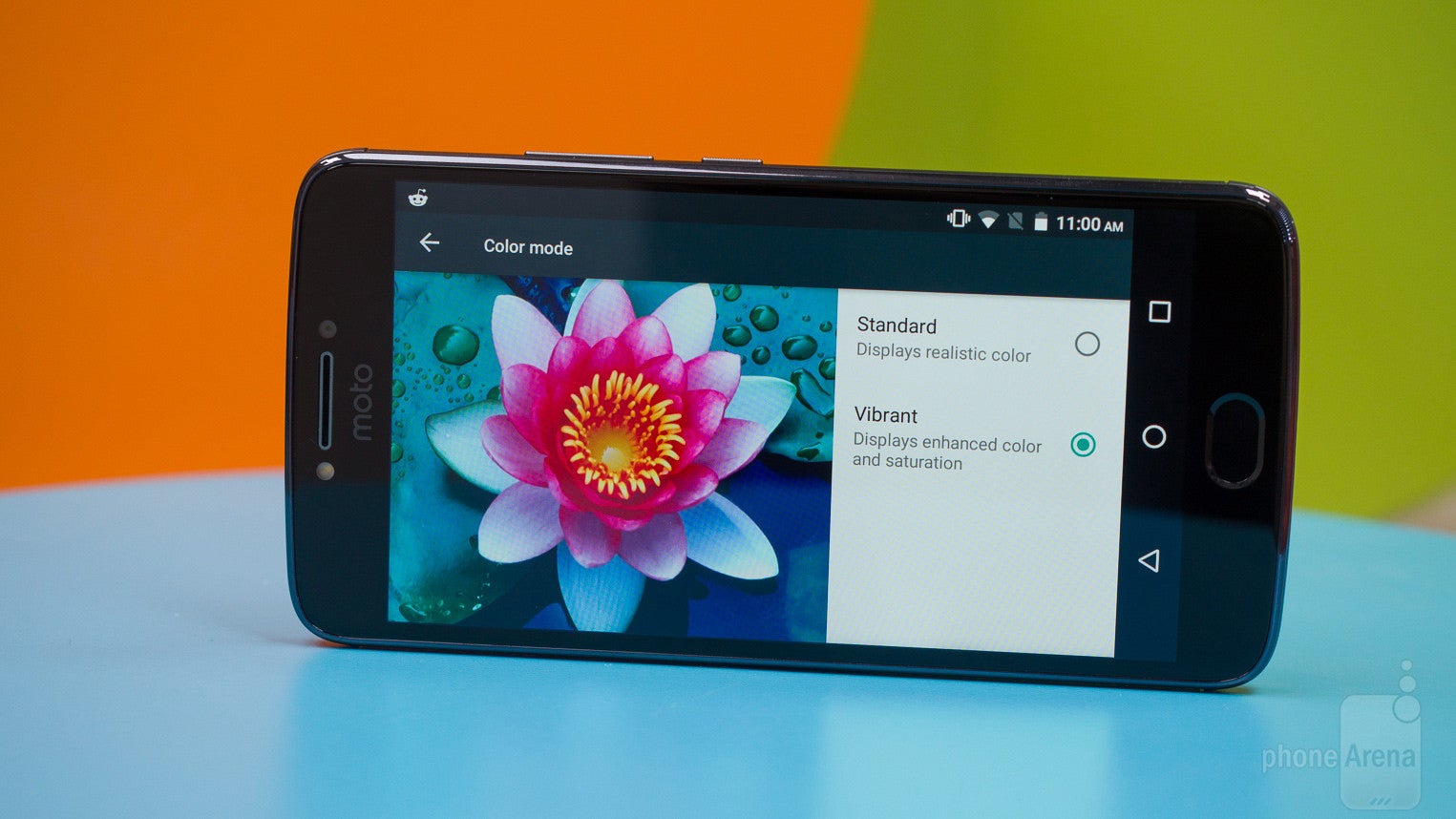 So, as hinted by the name, the Moto E4 Plus is the bigger phone in the new Moto E pair. It carries a 5.5-inch screen, effectively making it the phablet of the duo. However, since it didn't get an appropriate boost in resolution, it still has 720 x 1280 pixels stretched across its screen making for a PPI density of 267. Seeing as today's handsets often have a super-sharp image, we dare say that this is noticeable to the point of being slightly irking.
That aside, the display's colors are also consistently off target. Thankfully, nothing is oversaturated, but you definitely shouldn't be doing any shopping for clothes on this device. The screen's temperature is also slightly cold and there's an ever-present tealish tint to it. It's not a constant annoyance and may go unnoticed by the untrained eye, so we'd say we are within the acceptable margins of budget display drawbacks.
As for brightness, the Moto E4 Plus' display performs great — with a maximum of 395 nits and a minimum 6 nits, neither daytime viewing nor nighttime reading will feel uncomfortable.
Display measurements and quality